About AWM
Brother Andre' Gorham is the Founder and Sr. Pastor of Community Fellowship International Church located in Durham, NC.  He is also the Founder, President and CEO of Anointed Word Ministries, Inc.  He was Licensed in 1987 and Ordained in 1995 with the Church of God in Christ, Inc. Bro. Andre' has taught the Bible on television and radio since 1992 reaching audiences of over 6 million potential people via networks like Sky Angel, BET and INSP Television.
Brother Andre' has also accomplished missionary endeavors in China, the Philippines, Singapore, Germany, Holland, Luxembourg and many places in the United States.  He also teaches by invitation at DOMATA Bible College in the Philippines. DOMATA is ministry training Bible School founded by Mark Brazee Ministries, Inc.
Brother Andre is an active member of the Full Gospel Businessmen's Fellowship Int. chapter in Durham, NC where he holds the office of Chaplain. He also volunteers in the prisons through this organization.
Brother Andre' worked professionally in telecommunications for several years, 11.5 of which were at Duke University in Durham, NC.  He resigned from Duke University in August of 2000 as a telecom supervisor to pursue the call of God upon his life through full time ministry and other outreach endeavors.
Brother Gorham's primary call to the Body of Christ is as an Apostle, Pastor and Bible teacher.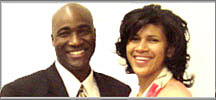 Brother Andre' has been married for over 23 years to Cynthia Wilkins Gorham.  They have three boys:  Andre II, Caleb Alexander and Daniel Octavius.  They reside in Durham, NC.
He can be reached at the ministry by calling (919) 598-8555 or by email at pastor@anointed.org